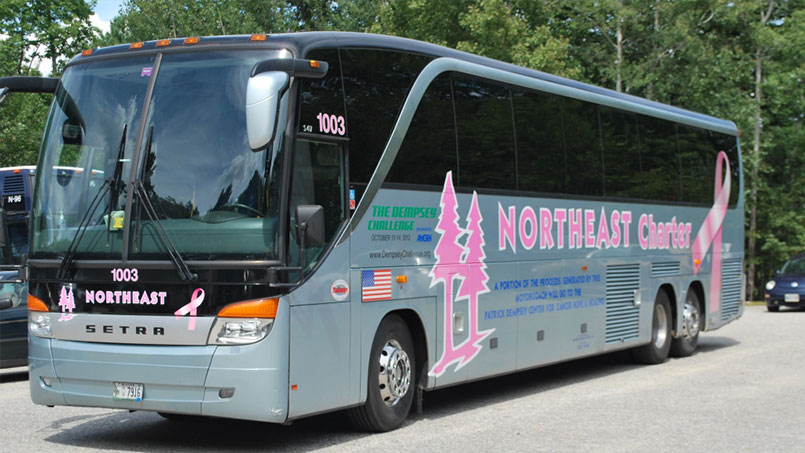 04 Oct

Northeast Charter & Tour Puts Dempsey Challenge and Cancer Awareness on Display

LEWISTON, ME (October 9, 2012) – Inspired by his connection to cancer and a strong desire to give back, Scott Riccio, president, owner and founder of Northeast Charter & Tour Co. has lettered one of his 45-foot coaches with the Dempsey Challenge logo and cancer awareness ribbon.

Riccio, whose brother is a cancer survivor, has seen the disease affect his circle of friends, employees and their family members. He recently lost an employee's Mother to cancer and decided to help raise awareness and funds for the Dempsey Center through the massive mobile billboard.

Among other destinations, the motorcoach will travel from Lewiston to Canada, Virginia, New York City and Washington D.C. throughout the year. A percentage of the proceeds from the bus, which is available by request, will benefit the Dempsey Center.
I wanted to do my part and offer the bus as a means of promoting a great organization," said Riccio. "You cannot measure the value of giving back.
The bus will officially be named "Dorothy Nana Teehan" on behalf of employee Danielle Sheehan and her family. It will be highly visible throughout Dempsey Challenge weekend, transporting participants and spectators to various locations.
The Dempsey Challenge Bus on display at NorthEast Tour & Charter Bus Co. in Auburn, Maine
Northeast Charter & Tour Co., Inc is a world class transportation provider operating 18 over the road motorcoaches traveling over 650,000 miles a year with passengers from around the world. Northeast also operates 24 school buses with divisions and programs in Winthrop, Lincolnville and Lewiston.
The Dempsey Challenge is the primary fundraising event for the Patrick Dempsey Center for Cancer Hope & Healing at Central Maine Medical Center in Lewiston, which provides free support, education and integrative medicine services to cancer patients, survivors and caregivers. For more information, visit www.dempseycenter.org.
The Dempsey Challenge offers the Electricity Maine 5K and 10K run/walk on October 13 and Fundraising Rides presented by Exergy Development Group of 10, 25, 50, 70 and 100 miles on October 14. All events will begin and end at Simard-Payne Memorial Park in Lewiston.
The weekend will include a family friendly Festival in the Park which plays host to the Concentra Health and Wellness Expo, TD Bank KidZone, vendor fair and live entertainment. The Amgen Breakaway from Cancer Survivor Walk highlights the weekend. For more information, visit www.dempseychallenge.org.[/vc_column_text]